Clearspring
The Clearspring goal is to get organic food back on the dining table, so that you can enjoy the same quality of foods as your grandparents did. By developing the demand for organic foods and encouraging the cultivation of organic crops by farmers today, we can ensure that your grandchildren, too, can enjoy the great taste of good food.​
---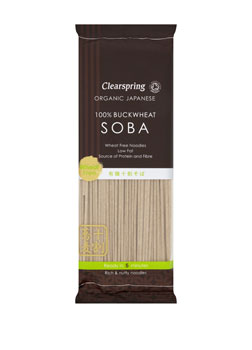 Clearpsring Organic Japanese Skinny Soba Somen 200g
Quick to cook and delicious in flavour, Clearspring Organic Skinny Soba Somen Noodles are satisfying and versatile. Artisan family producers slowly air dry and mature these noodles to concentrate their flavour. They can be used all year round in a wide range of Asian and Western dishes, including piping hot noodles in broth, satisfyingly rich stir fries, and succulent summer salads.
---
Wheat flour*(57%), buckwhaet flour *(40%), sea salt *=organically grown
---
Energy1455kJ / 343kcal
Total fat2.5g

of which saturates

0.4g
Carbohydrate64.5g

of which sugars

2.1g
Protein13.5g
Salt2g
---
---
---
---
---
---
---
---
---
---