Clearspring
The Clearspring goal is to get organic food back on the dining table, so that you can enjoy the same quality of foods as your grandparents did. By developing the demand for organic foods and encouraging the cultivation of organic crops by farmers today, we can ensure that your grandchildren, too, can enjoy the great taste of good food.​
---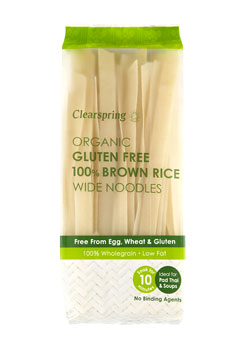 Clearspring Organic Gluten Free 100% Brown Rice Wide Noodles 200g
The highest quality organic brown rice and traditional processes are used to produce these smooth and filling gluten free noodles. Stir fry them with vegetables and a Pad Thai sauce to make a delicious Asian noodle salad or add them to soups for a quick and satisfying meal. They can also be used as a gluten free alternative to pasta.
---
Brown rice flour* (99%), water, sea salt. *Organically grown
---
Energy1473kJ / 352kcal
Total fat1.7g

of which saturates

0.5g
Carbohydrate73g

of which sugars

0.7g
Protein7.8g
Salt<0.1g
---
---
---
---
---
---
---
---
---
---