Kallo
Kallo is a contemporary food brand that specialises in organic and natural food. It is a brand for people who take an active role concerning their food and health. At Kallo we strongly believe that life should be simple, natural, and pleasurable. Have your cake and eat it..
---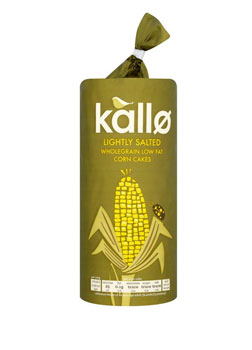 Kallo Organic Lightly Salted Wholegrain Low Fat Corn Cakes Thins 130g
These Lightly Salted Organic Corn Cakes go brilliantly with a generous serving of roasted red peppers on top of a yummy layer of goat's cheese. If you're in the mood for some more subtle flavours, cut up a few slices of mozzarella and pile on with a refreshing layer of cucumber and avocado.
---
---
---
---
---
---
---
---
---
---