Marigold
The Marigold Health Foods range of health-supporting vegetarian and vegan food products begins with the top selling Marigold Swiss Vegetable Bouillon powder. The bouillon comes in regular, reduced salt and organic versions, is in powder form, and all are gluten-free. This versatile, nutritious product is much loved by celebrity chefs such as Nigella Lawson and Delia Smith.
---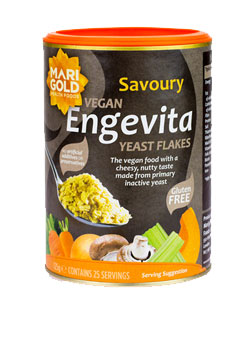 Marigold Engevita Yeast Flakes 125g
Engevita yeast provides one of the richest natural sources of the B-group vitamins and trace elements. Engevita is a purely natural food, a primary strain of Saccharomyces Cerevasiae, grown on enriched purified molasses under carefully controlled conditions. Engevita can be consumed as is, or taken readily dissolved in water, milk, fruit or vegetable juices and can be sprinkled on soups, stews, salads and breakfast cereals to enhance the flavour.
---
Sodium, 1g. Salt is 2.5 x value of sodium.
---
---
---
---
---
---