Clearspring
The Clearspring goal is to get organic food back on the dining table, so that you can enjoy the same quality of foods as your grandparents did. By developing the demand for organic foods and encouraging the cultivation of organic crops by farmers today, we can ensure that your grandchildren, too, can enjoy the great taste of good food.​
---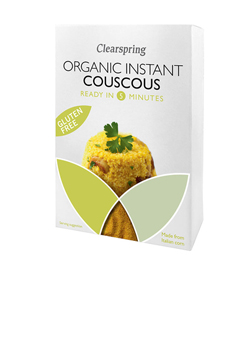 Clearspring Organic Instant Polenta 200g
Ready to eat in just seven minutes, it has a soft, creamy texture when cooked and can be served instead of pasta, rice or potatoes with roasted vegetables, stews and casseroles. It can also be cooked, left to set and sliced, baked, fried or grilled until brown and slightly crisp on the outside.
---
Energy1506kJ / 355kcal
Total fat2.3g

of which saturates

0.8g
Carbohydrate75g

of which sugars

0.5g
Protein6.9g
Salt0g
---
---
---
---
---
---
---
---
---
---