Seeds
Highly nutritious foods, seeds are rich in unsaturated fat, omega 3 fatty acids, and vitamin group B amongst other vitamins and minerals. Most seeds can be sprouted at home in a jar or a seed sprouter. Sprouted seeds are highly nutritious and are a valuable source of vitamins and minerals all the year round. Upon cooking seeds lose their essential fatty acids so it is advisable to eat them raw.
---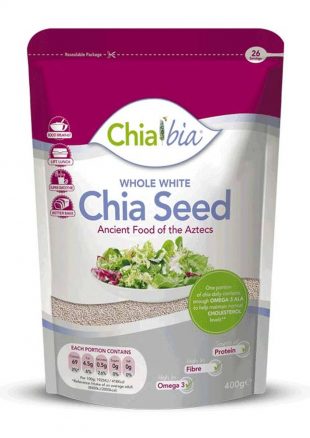 Chia Bia whole white seed 200g
Boost your nutrition easily with Chia Bia. Simply add WHOLE WHITE CHIA SEEDS to your favourite foods or drinks and enjoy a varied and balanced diet and active lifestyle for good health! White chia seed has the same nutritional profile as black chia seed, it also has a subtle flavour and can be added to foods to boost nutrition – the only difference is the colour!
---
---
---
---
---
---
---
---
---
---