Clearspring
The Clearspring goal is to get organic food back on the dining table, so that you can enjoy the same quality of foods as your grandparents did. By developing the demand for organic foods and encouraging the cultivation of organic crops by farmers today, we can ensure that your grandchildren, too, can enjoy the great taste of good food.​
---
---
---
---
---
---
---
---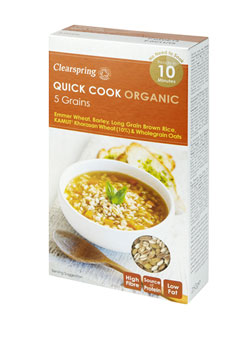 Clearspring Quick Cook Organic 5 Grains 250g
This 5 grain combination is packed full of wholesome cereals; a delicious mix of the familiar and the unusual. Both KAMUT® (khorasan wheat) and Emmer wheat are ancient grains varieties which have retained their original nutrition and flavour components while the more common barley, rice and oats compliment their texture and add extra nourishment.
---
Emmer wheat*(35%),barley*(28%), long grain brown rice*(22%), KAMUT® khorasanwheat*(10%), whole grainoats*(5%). *Organically grown
---
Energy1514kJ / 356kcal
Total fat2.4g

of which saturates

0.6g
Carbohydrate69.2g

of which sugars

0.7g
Protein10.9g
Salt0.007g
---
Fibre 7.1g, Magnesium 101mg (27% DRI), Zinc 2mg (20% DRI), Phosphorous 304mg (43% DRI), Vitamin B1 0.24mg (22% DRI), Niacin 3mg (19% DRI), Vitamin B5 1.5mg (25% DRI)
---
---
---