Clearspring
The Clearspring goal is to get organic food back on the dining table, so that you can enjoy the same quality of foods as your grandparents did. By developing the demand for organic foods and encouraging the cultivation of organic crops by farmers today, we can ensure that your grandchildren, too, can enjoy the great taste of good food.​
---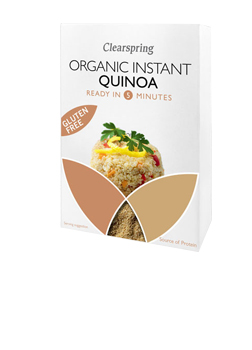 Clearspring Organic Instant Quinoa 180g
Quinoa is a great alternative to rice and couscous, adding perfect crunch to salads and texture to stuffed vegetable fillings. It also makes a delicious and nutritious accompaniment to casseroles and stews. Great on its own, add a bit of olive oil, sea salt & lemon juice.
---
Energy1559kJ / 369kcal
Total fat5.8g

of which saturates

0.8g
Carbohydrate64g

of which sugars

3.5g
Protein12g
Salt0.05g
---
---
---
---
---
---
---
---
---
---