Kallo
Kallo is a contemporary food brand that specialises in organic and natural food. It is a brand for people who take an active role concerning their food and health. At Kallo we strongly believe that life should be simple, natural, and pleasurable. Have your cake and eat it..
---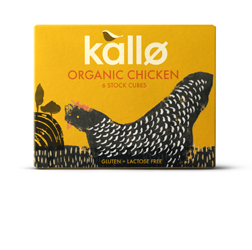 Kallo Stock Cubes Organic Chicken 66g
If you're looking for comfort and contentment, Kallo Organic Chicken Stock Cubes have it all. Gently melt a stock cube with a little oil or butter and brush over chicken breasts or whole chicken before you roast – delicious!
---
---
---
---
---
---
---
---
---
---