Kallo
Kallo is a contemporary food brand that specialises in organic and natural food. It is a brand for people who take an active role concerning their food and health. At Kallo we strongly believe that life should be simple, natural, and pleasurable. Have your cake and eat it..
---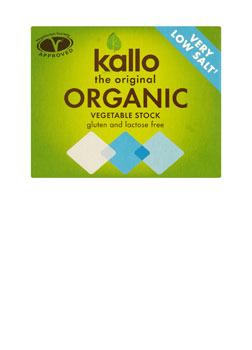 Kallo Stock Cubes Organic Vegetable Very Low Salt 66g
Made using organically grown ingredients and containing no artificial additives, Kallo Organic Low Salt Vegetable stock cubes have been created especially to help you reduce salt in your diet, but also to enhance the natural flavours of your home cooked meals.
---
---
---
---