Thorncroft
The Thorncroft cordials are plant-inspired and based around the theme of an English-hedgerow. There are popular flavours as well as some not so well-known mixes and all seven varieties are refreshing with an emphasis on fine flavours.
---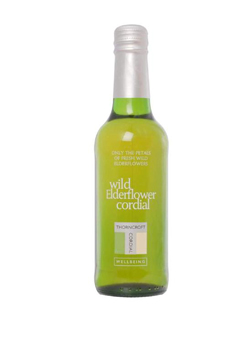 Thorncroft Eldeflower Cordial 375ml
Based on an ancient recipe which is at least 400years old. Its special recipe recalls lychees and Muscat grapes and it is thought by many to the most refreshing drink ever.
---
Water, cane sugar, fresh elderflower petals (0.4%), lemons citric acid
---
Energy216kJ / 50kcal
Total fat0g

of which saturates

0g
Carbohydrate12.2g

of which sugars

12.2g
Protein0g
Salt0g
---
---
---
---