Doves Farm
Doves Farm are organic flour specialists and a family owned enterprise with over 60 staff, drawing the majority of these and many raw materials from the local Wessex area. We are dedicated to upholding organic, ethical and Fairtrade agricultural systems, nurturing partnerships with suppliers and customers and supporting local community projects. We produce a wide range of specialist and gourmet flours that are milled from a range of grains and seeds, with a variety of tastes and textures, Doves Farm flours have a unique character.
---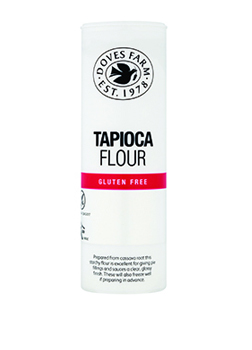 Doves Farm GF Tapioca Flour 110g
With a neutral smell and taste, this pure white flour is made from the tapioca root and prized for its starchy quality. Perfect for thickening soups, mousses and sauces.
---
Energy1508kJ / 355kcal
Total fat0.1g

of which saturates

0.1g
Carbohydrate87.8g

of which sugars

0.1g
Protein0.5g
Salt0.03g
---
---
---
---
---
---
---
---
---
---