Clipper
Clipper is dedicated to bringing you delicious teas that are beautiful inside and out. We consider everything from the sourcing of all of our ingredients, where the tea comes from, to the way we blend and pack it; whilst always upholding our policy of 'no artificial ingredients'. We have led the way in organic, green and white teas, non-chemical decaffeination, becoming the UK's 1st Fairtrade tea brand and of course championing the very recognisable unbleached tea bag.
---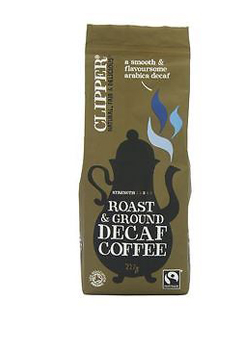 Clipper FT Decaf Coffee 227g
A toasty and intense blend with a clean finish and a rich aroma. Organically decaffeinated using the CO2 & Spring Water method.
---
---
---
---
---
---
---
---
---
---
---
---