Protein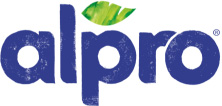 Ice-Cream
360 calories in a tub

No sweeteners and less calories?
GOOD FOR YOU!
Need to get your ice-cream fix? Try the NEW Alpro Ice
Cream 360 range. 100% plant-based and made from
nature's tastiest ingredients.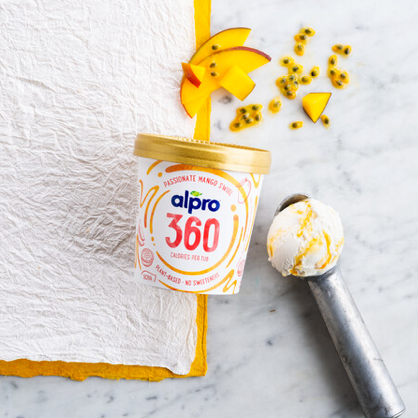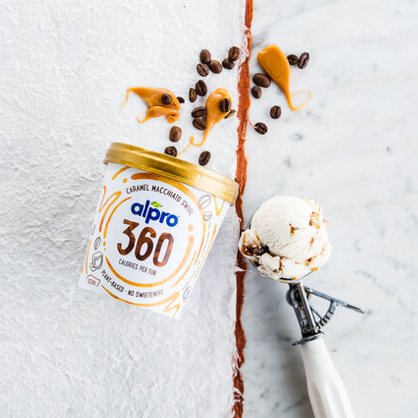 Indulge more?

Simply plant-based indulgence?
GOOD FOR YOU!
Alpro's plant based ice cream is made from nature's
tastiest ingredients and contains less sugars*. It has
a deliciously creamy texture without feeling too
heavy. Lose yourself in creamy bliss with our silky
smooth ice cream.
*Contains 30% less sugars than the market
reference in ice cream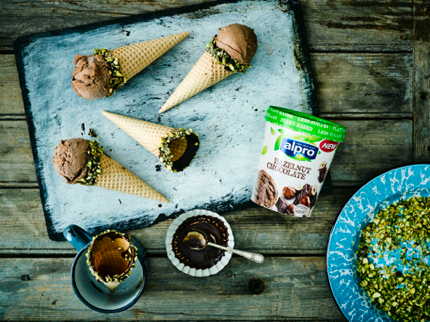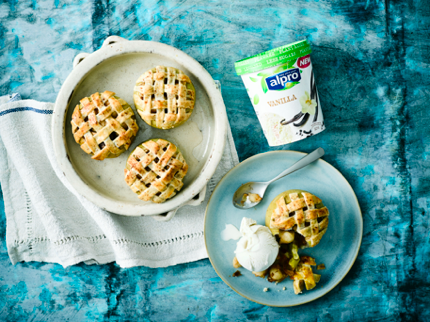 50g of PLANT PROTEIN per pack!


"
BENEFITS
Naturally Lactose Free
100% plant-based
Vegetarian
Naturally low in saturated fat
Low in sugars
Rich in Fibre
Source of high quality protein
SOYA HIGH PROTEIN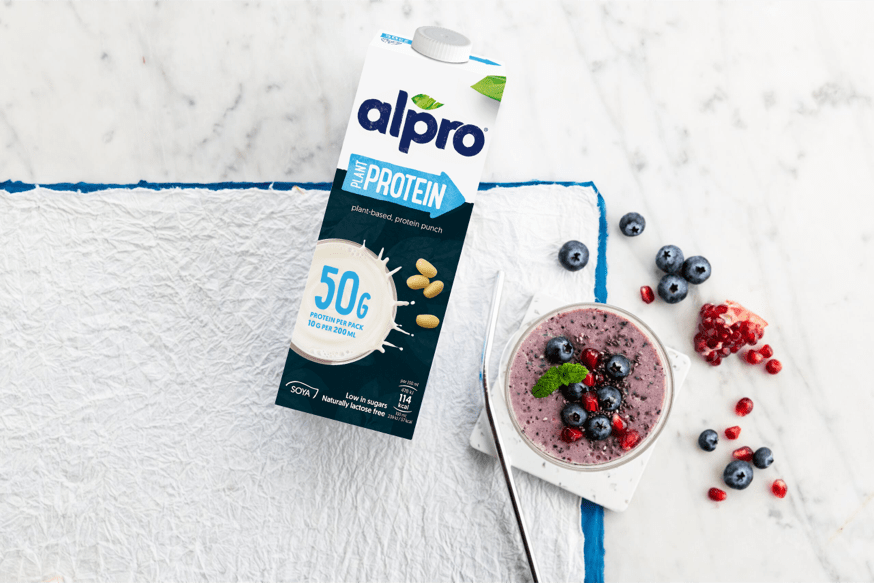 You did your Morning Workout!
Well done you. You're on track to a fit, healthy lifestyle. An amazing, nutritious source of plant protein. A great way to keep your body in balance, this smooth protein drink gives you the punch to live your life to the fullest, all day long. Protein contributes to the growth and maintenance of muscle mass.
GOOD FOR YOU*
SOYA HIGH PROTEIN CHOCOLATE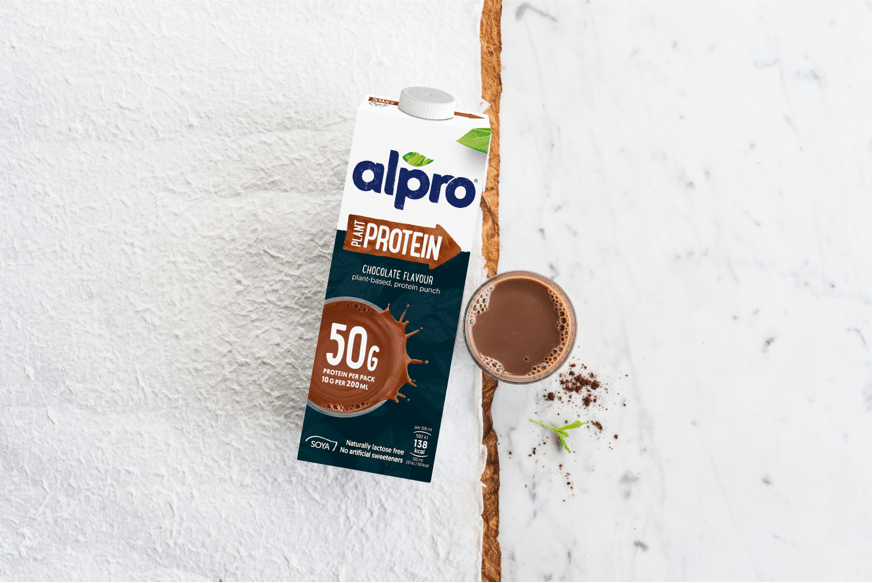 You've opted for a healthy lifestyle, now you just need to keep going!
We're here to make it easy with Alpro® High Protein Chocolate Flavoured Drink. Soya is an amazing source of plant protein, containing all nine essential amino acids. And, we use only responsibly sourced soya beans. As the name suggests, it's seriously chocolatey. So high five. You can do it!
GOOD FOR YOU*
*Source of protein. Protein contributes to the growth and maintenance of muscle mass. A varied and balanced diet and a healhty lifestyle is recommended for good health.
Kids
PLANT BASED ALTERNATIVE TO FROMAGE FRAIS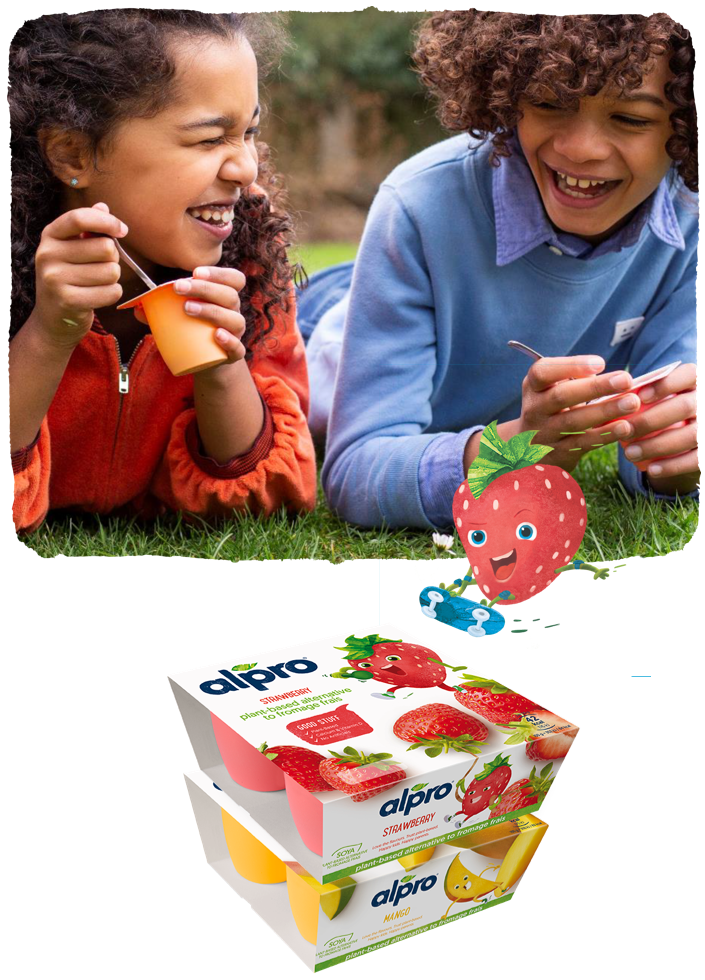 ALPRO KIDS STRAWBERRY 4 X 50G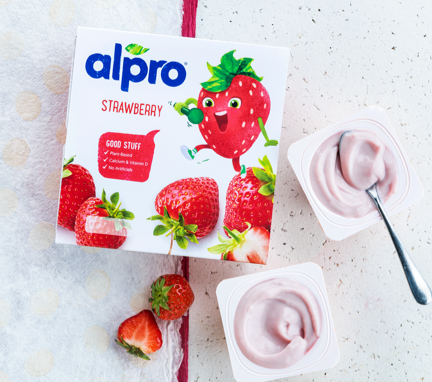 Kids will adore Alpro's smooth, no bits
strawberry soya alternative to fromage
frais. 100% plant-based with added
calcium and vitamins.
ALPRO KIDS MANGO 4 X 50G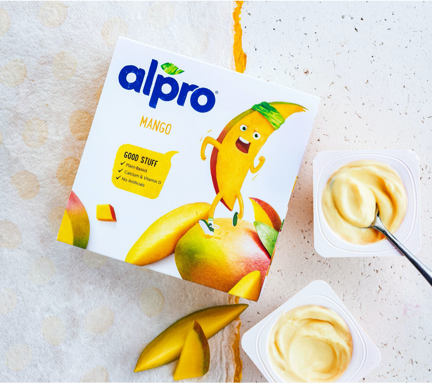 Jump at the chance to taste this luscious
mango flavour. The fruit is blended in, so it
has a smooth, creamy texture, with no bits,
and is less likely to spill.
ON-THE-GO HEALTHY DRINKS
Perfect size to take on-the-go and enjoy any time of day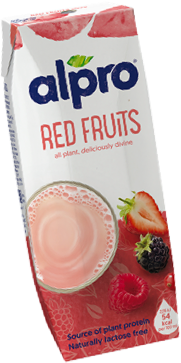 Sweet, but not too sweet, they infuse our delicious soya drink with a refreshingly fruity flavour. As well as being lusciously tasty, it is a great source of plant protein, calcium and vitamins.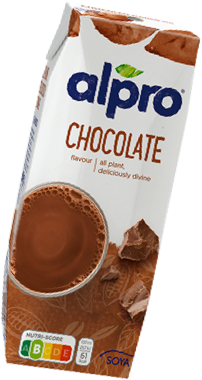 Chocolate flavour Alpro soya milk, the dairy free alternative to milk with added calcium and vitamins. Perfect size for taking with you on-the-go to enjoy at any time of the day.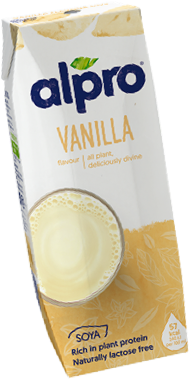 Sometimes, we're simply about the pursuit of pleasure. Like now. The taste of vanilla is the perfect love match for our smooth soya drink. Just one taste, and you'll know they belong together. Even better, this drink is 100% plant-based, it's low in saturated fat and it contains less sugars too. So go ahead, feel the love. GOOD FOR YOU*
Plant-based alternatives to yoghurts
GO GREEK STYLE!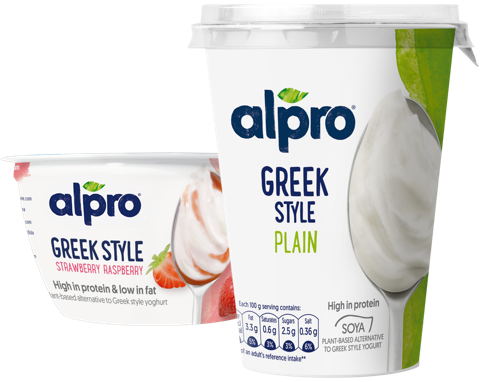 Looking to up your protein intake?
GOOD FOR YOU!
Alpro Greek Style is the perfect way to your day!
Way to go! Extra thick with a smooth texture, here's
just what you need to keep you going. Naturally low in fat
and high in protein too!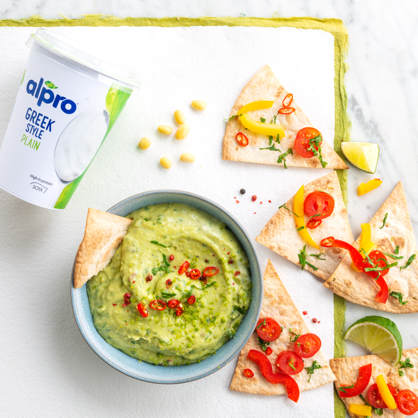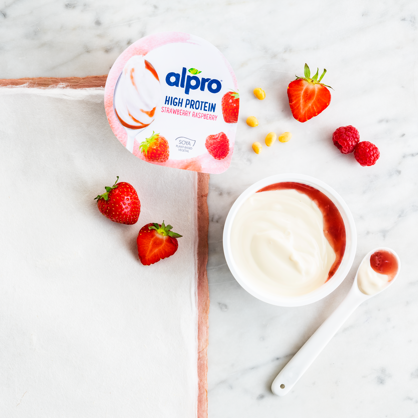 MORE FRUIT, NO ADDED SUGARS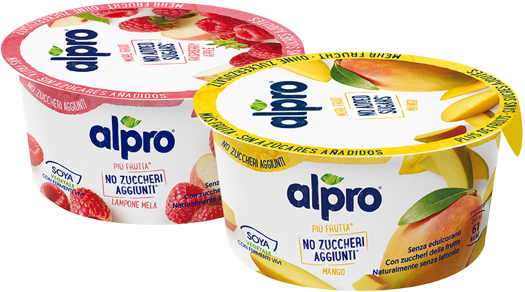 No added sugar
GOOD FOR YOU!
All the sweetness comes from juicy fruit containing only
naturally occurring sugars. So there's no need for
added sugars or sweeteners.
Caffé Latte
CAFFE TO GO?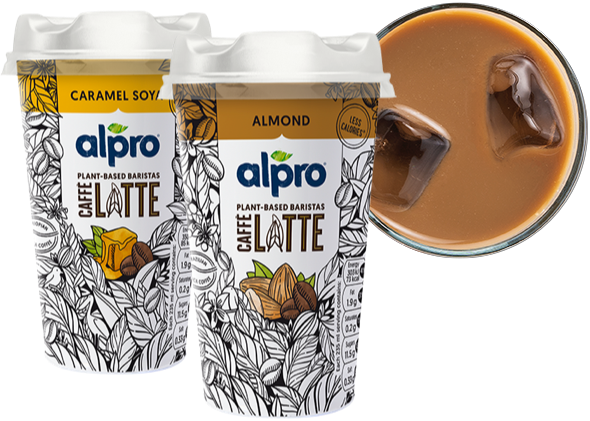 Got a break?
GOOD FOR YOU!
Brewed, blended and balanced for perfection.
Alpro Caffé Latte brings together single-origin high quality
coffee and your favourite plant based drinks. No need to head
out to the café, you can enjoy this luxurious plant-based treat in
the comfort of your own home. Besides, the wi-fi's better!
Good For You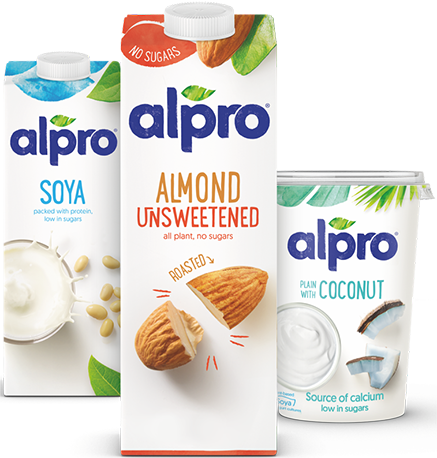 In real life, healthy comes with an (ish) – because life happens.
And that's why we're here to cheer on life's triers. So slurp it, pour
it, crunch it – you've chosen plant-based, and however you're
doing it, you've smashed it. Because IRL, good is good enough. …
GOOD FOR YOU*
*Source of calcium. Calcium is needed for the maintenance of normal bones.
A varied and balanced diet and a healthy lifestyle are recommended for good health.
Check out our products
The Plant-Based Experience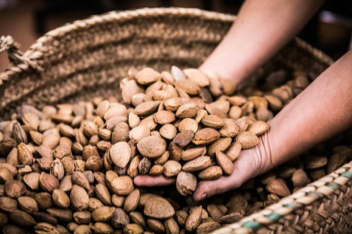 We're on a plant-based mission because we believe the world's a
great place. And we'd like to keep it that way. We're leading the
change in our One Planet Thinking, which means looking at great
things.* Plus plant-based foods are better for the planet because
they use less natural resources. Yasss! All hail plant power.
*Like energy efficiency, biodiversity projects, water risk assessments and the
production of bio-based cartons.