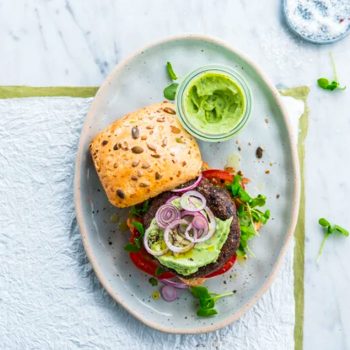 Ingredients:
4 multi-grain buns
1 red onion
2 tomatoes
1 avocado, peeled and sliced
50g of lettuce
1 lime, juice of
Coriander leaves, chopped
3-4 tbsp Alpro Plain Soya alternative to Greek Style yogurt
400g Good Earth Black Turtle beans soaked and boiled
60g breadcrumbs (or oatmeal or panko)
1 garlic clove, crushed
1 tbsp vegetable oil
1 tsp paprika powder
3 tbsp of olive oil
ground black pepper & salt
Prep time:
15
Total time:
30
Serves:
4
Instructions
Drain the beans and mix with the breadcrumbs, the crushed garlic and 1 tbsp olive oil. Season with paprika, pepper and salt. Squidge it all together well, then divide into four and mould into 'patty' shapes.
Cook in a skillet in the vegetable or olive oil for 6-8 minutes each side, or until golden brown. Let them cool a little before serving.
Now for the dressing. Mix together the avocado, Alpro Plain Soya alternative to Greek Style yogurt, fresh coriander and lime juice, and blend until smooth. Season with black pepper & salt.
Slice the onion and tomato. Cut the buns in two and stack up your veggie burger with layers of lettuce, the bean patty, tomato, onion and the zesty lime and avocado dressing. 100% plant-based, 100% satisfying!