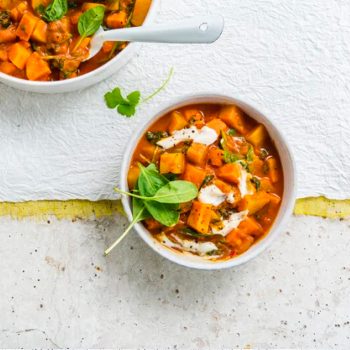 Ingredients:
220g Alpro Plain Soya alternative to Greek Style yogurt
600ml water
900g vegetables: potato, pumpkin and sweet potato
200g spinach
2 onions
2 garlic cloves
4cm ginger, grated
½ red chilli pepper (optional)
500ml tomato passata
1 ½ tbsp garam masala or ras el hanout
1 tbsp curry powder
1 tsp turmeric
1 lime, juice
Fresh coriander
2 tbsp olive oil or coconut oil
Salt & pepper
Prep time:
20
Total time:
45
Serves:
4
Instructions
First peel the veggies and cut into equal sized chunks. Finely chop the onion and chilli; grate the ginger and crush the garlic.
Next, heat the oil and fry onion, garlic, ginger and chilli until the onions are translucent. Add the spices and cook for 1-2 minutes, stir-frying to release all the wonderful aromas. Add all the veggies (except the spinach), tomato passata, water and coriander.
Let it simmer for 20-30 minutes on a low heat, stirring frequently until the potatoes are soft. Now add the spinach and Alpro Plain Soya alternative to Greek Style yogurt and simmer for a further 2 minutes just to wilt the spinach.
Season with salt and a little lime juice. Serve steaming hot, sprinkled with a few extra fresh coriander leaves if you like. A super-sustaining, one pot meal in a bowl!