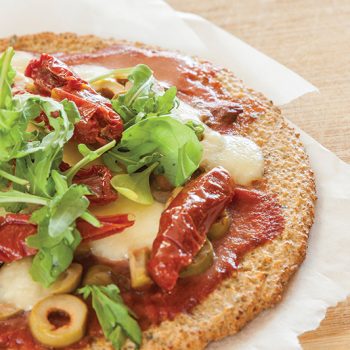 Ingredients:
Pizza Base
200g Good Earth White Quinoa (soaked for about eight hours)
1 tsp of apple cider vinegar
2 tsp of mixed herbs
Salt

Topping of your choice:
We used:
Tomato Passata
Fresh Mozerella
Sun Dried Tomatoes
Olives
Fresh Rocket

Prep time:
8 hrs
Total time:
25 mins
Serves:
1 x 8 inch Pizza
Instructions
Soak the quinoa overnight or for about eight hours in water .
Pre-heat the oven to 190C. Drain any water left in the quinoa bowl, before putting the quinoa into a food processor with the apple cider vinegar, herbs and salt. Blend for a few minutes until a smooth dough forms, it should look a bit like pancake mix.
Line the bottom of a pizza dish or cake pan with olive oil and pour the mix in, then bake for about 15- 20 minutes, until the base is firm.
Remove and add your topping, either place it back in the oven for a few minutes.