Gluten Free – Dairy Free Figolli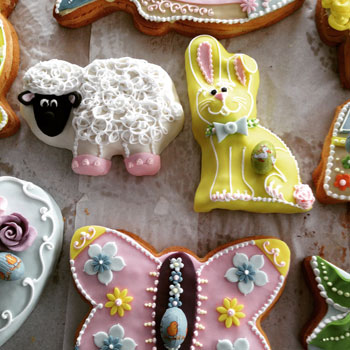 Chef Manuel Aquilina
Ingredients:
FOR THE PASTRY

500g Doves Farm gluten-free plain white flour
225g Alpro Spread
2 tsp Doves Farm gluten-free baking powder
2 tsp Doves Farm Xanthan gum
150g Traidcraft unrefined golden caster sugar
1/2 tsp vanilla extract
Zest of 1 lemon and 1 orange
Juice of 1 orange
3 egg yolks

FOR THE ALMOND FILLING

600g Good Earth Pure ground almonds
320g Traidcraft unrefined golden caster sugar
Zest of 1 large lemon
2-3 egg whites
1/2 tsp vanilla extract

Prep time:
40 mins
Total time:
40 mins
Serves:
4
Instructions
To prepare the almond filling: place all the ingredients together in a large bowl and bind together with your hands to form a soft marzipan. Make sure the mixture is not sticky. Put aside while you make the pastry.
To make the pastry: sift together the gluten-free flour, baking powder and xanthan gum in a large bowl. Add the soya spread and rub with your fingers till mixture resembles breadcrumbs. Add in the golden caster sugar, lemon and orange zest, fresh orange juice, vanilla and egg yolks and mix together till you have a smooth soft pastry. DO NOT allow to rest and use IMMEDIATELY.
Roll out the pastry on a floured work surface, to a thickness of about 3/4cm. You can also easily do these by placing the pastry between 2 sheets of greaseproof paper. Using shaped figolli cutters, cut figolli shapes out of the pastry (you will need 2 pastry shapes for each figolla). Carefully place the figolli pastry shapes on baking trays covered with greaseproof paper.
Next, you need to roll out the almond filling, the same as the pastry, cutting out one shape per figolla. Brush ½ of the pastry shapes lightly with water, and cover each piece with the almond filling. Brush the almond filling lightly with water and cover with the remaining pastry shapes. Each figolla will end up with a pastry top and bottom, with the layer of almond in the middle.
Bake the figolli in the oven at 180c, for 35-40 minutes, depending on their size. When the figolli are cooked, remove the baking trays from the oven and allow the figolli to cool down completely before removing them of the baking trays. For best results, decorate the figolli the following day, using the gluten-free chocolate, marzipan, icing and silver dredges. When the figolli are decorated and the icing is set, wrap them up in cling film to keep them fresh. The figolli can be prepared1-2 weeks in advance.