Delightful Mediterranean quiche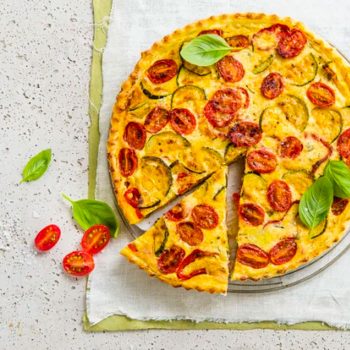 Ingredients:
1 Ready-made dough for quiches
400g Alpro Plain Greek Style
1 zucchini
1 sweet red pepper
125g of cherry tomatoes
3 eggs
2 tbsp of red pesto
40g of grated Parmesan cheese
Alpro Margarine for Baking and Frying
A handful of fresh basil
Nutmeg
Freshly ground pepper and salt
Prep time:
30 mins
Total time:
75 mins
Serves:
4
Instructions
Preheat the oven to 180ºC and get a 10" loose bottomed, fluted flan tin out and prepped ready.
Make your quiche filling. Chop the courgette and sweet peppers. Heat a little Alpro Margarine for Baking and Frying in a skillet and fry the veg for about five minutes. Season with pepper and salt. Put the Alpro Plain Soya alternative to Greek Style yogurt and the three eggs in a bowl and whisk well. Add half the grated Parmesan and a few chopped basil leaves. Stir and season with nutmeg, freshly ground pepper and salt. Cut the cherry tomatoes in half and put to one side.
Now for the case. Remove the pastry dough from the fridge and roll it out on a clean, floured surface. Position over the tin and ease it in gently, pressing against the base and sides to get a good fit. Trim off any excess from around the top. Prebake if necessary, according to the instructions on the pack.
And… assemble. Brush the pastry base with the pesto and spread the cooked veg over the top. Pour over the cheesy Alpro mixture and sprinkle with the rest of the grated Parmesan cheese. Cover with the halved cherry tomatoes and bake for about 45 minutes until golden-brown. Slice into segments and serve with fresh basil leaves and a green salad. Bright, vibrant and full of Mediterranean sunshine.