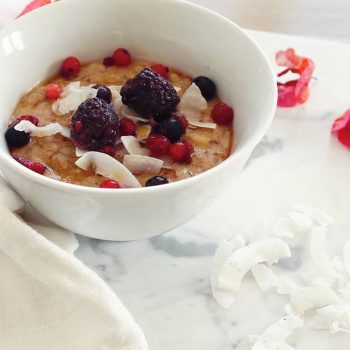 Courtesy of Nikki Manduca
Ingredients:
1.5 Cup Good Earth Oat Flakes
Half a banana
1 tsp Monki Organic Almond Butter
1 tsp Merito Organic Coconut Oil
1 Tbsp Good Earth Desiccated Coconut
1 tsp Green Origins Maca Powder
1 tsp Good Earth Ground Cinnamon
Pinch of Good Earth Himalayan Salt
1 Tbsp Horizon Organic Maple Syrup
170-200ml Alpro Coconut Almond Milk
Handful of frozen berries

Optional toppings:
Fresh fruit
Good Earth Sunflower/Pumpkin seeds
Good Earth Nuts
Good Earth Flaked Coconut
Prep time:
5 mins
Total time:
10 mins
Serves:
1
Instructions
Not the biggest fan of porridge? Here's a recipe that will change your mind. Not only is it quick and easy to make but it's extremely nourishing and delicious.
This delicious recipe is so satisfying that you would want to eat it on a daily basis. Coconut is massively trending at the moment and it goes so well in this recipe. Coconut is a natural unprocessed saturated healthy fat which participates in many functions such as repair of gut cells and the formation of healthy brain and nerve cells.
To make:
Start by mashing up half the banana and add along with the rest of the ingredients and mix well. Then add to a saucepan and put on your cooker on a low heat and cook until bubbles start to appear. Once this happens, switch off the heat and let it set until everything absorbs a little. Lastly, add the Tbsp of Maple syrup, frozen berries or any other topping of your choice and enjoy.