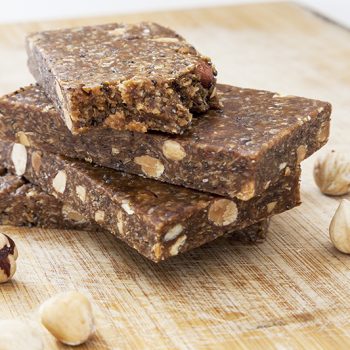 Ingredients:
200g Good Earth Pitted Dates
200g Good Earth Oat Flakes
100g Good Earth Roasted Almonds
2 tbsp (24g) Good Earth Chia Seeds
250g Whole Earth Smooth Peanut Butter
160g honey

Prep time:
20 mins
Total time:
40 mins
Serves:
10
Instructions
Line a 20cm square baking pan with baking paper. Set aside.
Process dates in a food processor until small bits remain (about 1 minute). It should form a "dough" like consistency.
Toast your oats in a 180-degree oven for 10-15 minutes or until slightly golden brown.
Place oats, almonds, chia seeds and dates in a large mixing bowl – set aside.
Warm honey and peanut butter in a small saucepan over low heat. Stir and pour over oat mixture and then mix, breaking up the dates to disperse throughout.
Once thoroughly mixed, transfer to the baking dish. Press down firmly until uniformly flattened
Cover with parchment or plastic wrap, and let firm up in fridge or freezer for 15-20 minutes.
Remove bars from pan and chop into 10 even bars. Store in an airtight container for up to a few days.