3 DIPS: Favetta beans and cashew nut dip / Crushed puy lentils with tahini and cumin / Red Pepper Hummus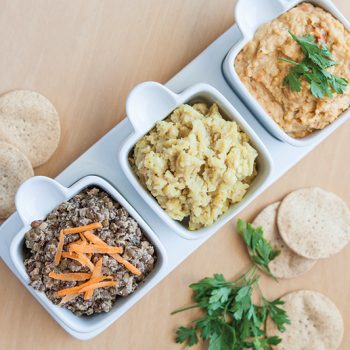 Ingredients:
FAVETTA BEANS & CASHEW NUT DIP:

250g dried Good Earth Favetta Beans
200g Good Earth Roasted Cashew Nuts
1 tsp thyme leaves, finely chopped, plus extra to garnish
2 garlic cloves, peeled and crushed
2 large lemons, finely grated zest and juice
6-8 tbsp. Pantaleo olive oil, plus extra for drizzling
Sea salt flakes and freshly ground black pepper

CRUSHED PUTY LENTILS WITH TAHINI AND CUMIN:

200g Good Earth Puy Lentils
30g unsalted butter
2 tbsp Pantaleo Olive Oil, plus extra to finish
3 garlic cloves, peeled and crushed 
1 tsp Good Earth Ground Cumin
3 medium tomatoes, skinned and cut into 1cm dice
25g coriander leaves, chopped
4 tsp Sunita Light Tahini paste 
2 tsp lemon juice
Salt and black pepper ½ small red onion, peeled and sliced very thin

RED PEPPER HUMMUS:

1 roasted and skinned red pepper
400g Good Earth Chickpeas (cooked according to package instructions)
1 tbsp. Sunita Light Tahini
2 Garlic Cloves- Chopped
2 Slices of 1 onion- chopped
2 tbps Lemon Juice
Pinch of Good Earth Cayenne Pepper
Pinch of Good Earth Pepper
Pinch of Good Earth Himalayan Salt
2 tbsp. Pantaleo Olive Oil



Prep time:
5 hrs
Total time:
45 mins
Serves:
4
Instructions
FAVETTA BEANS & CASHEW NUT DIP
Soak the Favetta beans for a minimum of 5 hours. Boil the beans according to the packet instructions until cooked and soft (approximately 40 minutes). Drain and set aside, reserving some of the boiling liquid in case you need it to slacken the mixture later.
Put the drained favetta beans, the cashew nuts, thyme, crushed garlic, lemon zest and juice, garlic oil, olive oil and a generous quantity of salt and pepper into a food processor and blitz until broken down. If the mixture is too thick, add a little of the reserved liquid (or more olive oil, if preferred) and blitz again until smooth. Taste the mixture and adjust the seasoning if necessary (the dip does like a lot of salt, as broad beans are naturally sweet).
Transfer the dip to a bowl. Sprinkle over the remaining thyme leaves, drizzle with a little olive oil and serve.
CRUSHED PUTY LENTILS WITH TAHINI AND CUMIN
Bring a medium pan of water to a boil. Add the lentils and cook for 15-20 minutes, until completely cooked, drain and set aside.
Put the butter and oil in a large sauté pan and place on a medium-high heat. Once the butter melts, add the garlic and cumin, and cook for a minute. Add the tomatoes, 20g of coriander and the cooked lentils. Cook, stirring, for a couple of minutes, then add the tahini, lemon juice, 70ml of water, a teaspoon of salt and a good grind of black pepper. Turn down the heat to medium and cook gently, stirring, for a few minutes more, until hot and thickened. Roughly mash the lentils with a potato masher, so that some are broken up and you get a thick, porridge consistency.
Spread out the lentils on a flat platter, run a fork through to make a wavy pattern on top, and scatter on the sliced onion, the remaining coriander and a final drizzle of olive oil.
RED PEPPER HUMMUS
Grill & Skin One Roasted Red Pepper
Add the Chickpeas, Tahini, Garlic, Onions, Lemon Juice Olive Oil, Cayenne Pepper, Salt & Pepper and blend until smooth.
Add the red peppers and blend again.