Jordans
Jordans was founded by two nature-loving brothers, Bill & David, whose family have a long history in milling. At the end of the 1960s, Bill went travelling in America and brought back to his brother the fabulous granola he had come across on the West Coast, where the wholefoods movement was in full swing. It was the starting point for Jordans Cereals and the Countryside Commitment.
---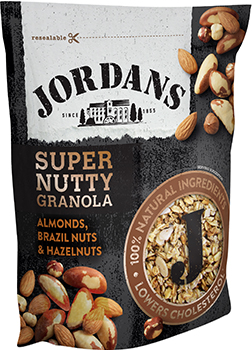 Jordans Supernutty Granola 550g
An extra nutty combination of wholegrain oats rolled in honey and supercharged with Brazil nuts, roasted chopped hazelnuts, and flaked almonds.
---
British Conservation Grade Wholegrain Oat Flakes (65%), Raw Cane Sugar, Nuts (16%) [Sliced Brazil Nuts (7%), Roasted Chopped Hazelnuts (5%), Flaked and Chopped Almonds (4%)], Vegetable Oil (Rapeseed Oil, Certified Sustainable Palm Oil), Honey (1%), Sunflower Seeds, natural Flavouring.
---
EnergykJ / kcal
Total fatg

of which saturates

g
Carbohydrateg

of which sugars

g
Proteing
Saltg
---
---
---
---
---
---
---
---
---
---