Green Origins
Green Origins was founded in 2008 to source high quality superfoods from environmentally conscious and ethical suppliers. We have been sourcing superfoods directly from producers for over 7 years and have an excellent network of suppliers in place, allowing us to offer consistency of product supply and product quality, competitive pricing and a real understanding of the provenance of the products.
---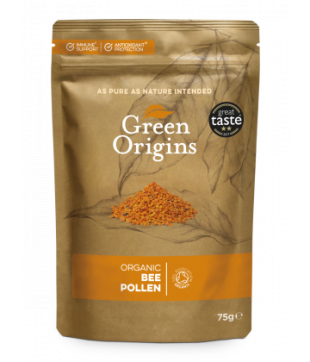 Green Origins Raw Bee Pollen 75g
Bee Pollen is a nutritionally-rich single food containing most of the nutrients we require. Green Origins Bee Pollen is polyfloral from a variety of flowers, meaning an enhanced nutritional profile. Processing is minimal, being just gently dried. Vitamin C and Thiamin (B1) contribute to cardiovascular health, Vitamin C supports the immune system, and Vitamin B6 and Biotin support energy and hormonal balance.
---
---
---
---
---
---
---
---
---
---