Emile Noel
Our Huilerie partners with organic farmers across the world. They supply us with organic oil seeds and oleaginous fruits that we press for oils to make our products. We therefore choose to purchase the value of high-quality organic production, which tends to mean smaller yields, protects nature's ability to feed us sustainably, and ensures a decent income for every farmer.
---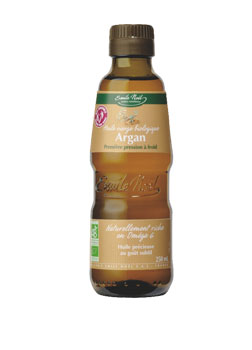 Emile Noel Organic Virgin Argan Oil 250ml
At the Targanine cooperative, argan-tree fruit are harvested by hand in June and July, then lightly roasted before cold extraction. This virgin oil in 100% pure and natural.
---
Energy3770kJ / 900kcal
Total fat100g

of which saturates

20g
Carbohydrate0g

of which sugars

0g
Protein0g
Salt0g
---
Monosaturated 40g, Polyunsaturated 34g of which Omega 6 34g, Vitamin E 5mg
---
---
---
---
---
---
---
---
---
---