Doves Farm
Doves Farm are organic flour specialists and a family owned enterprise with over 60 staff, drawing the majority of these and many raw materials from the local Wessex area. We are dedicated to upholding organic, ethical and Fairtrade agricultural systems, nurturing partnerships with suppliers and customers and supporting local community projects. We produce a wide range of specialist and gourmet flours that are milled from a range of grains and seeds, with a variety of tastes and textures, Doves Farm flours have a unique character.
---
---
---
---
---
---
---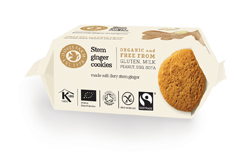 Doves Farm Gluten Free Ginger Cookies 150g
Made with Fairtrade ginger which imparts a warm and slightly spicey flavour. These Cookies are gluten free and are made without wheat, milk, soya, salt, buckwheat, eggs and hydrogenated fat, so they can be enjoyed by everyone.
---
Gluten Free Flour Blend*(Brown Rice*, Potato*, Maize*),Sugar 21*F , Palm Oil*,Ginger Paste (Ginger 39%*, Sugar Syrup*), Ground Ginger 1%*F, Raising Agent (Sodium Bicarbonate) * Denotes Organic.
---
Energy1907kJ / 453kcal
Total fat15.7g

of which saturates

6.9g
Carbohydrate73.5g

of which sugars

30.2g
Protein3.5g
Salt0.5g
---
---
---