Doves Farm
Doves Farm are organic flour specialists and a family owned enterprise with over 60 staff, drawing the majority of these and many raw materials from the local Wessex area. We are dedicated to upholding organic, ethical and Fairtrade agricultural systems, nurturing partnerships with suppliers and customers and supporting local community projects. We produce a wide range of specialist and gourmet flours that are milled from a range of grains and seeds, with a variety of tastes and textures, Doves Farm flours have a unique character.
---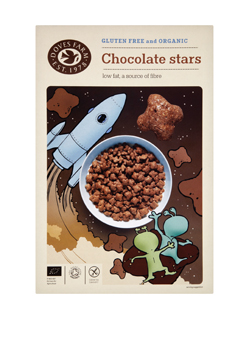 Doves Farm Organic & GF Chocolate Stars 375g
Breakfast can be fun with our stellar shaped chocolate cereal! Made with real organic chocolate, maize and rice, our gluten free and organic Chocolate Stars are ideal for all the family.
---
Maize*, Rice Malt*, Sugar*, Chocolate 5%* (Cocoa Mass*, Sugar*, Soya Lecithin), Cocoa*, Salt.
---
Energy1633kJ / 386kcal
Total fat4.8g

of which saturates

2.4g
Carbohydrate79.1g

of which sugars

29.1g
Protein6.4g
Salt1.25g
---
---
---
---
---
---
---
---
---
---