Chia Bia
Chia Bia is one of Europe's largest suppliers of chia seeds. Our vision is to consistently deliver high quality products that offer consumers a healthier choice. We are committed to the quality of our chia seeds. We only work with chia suppliers who have a direct relationship with their growers. Further to this, we nutritionally analyse each batch of seeds to ensure they meet our strict nutritional criteria.

---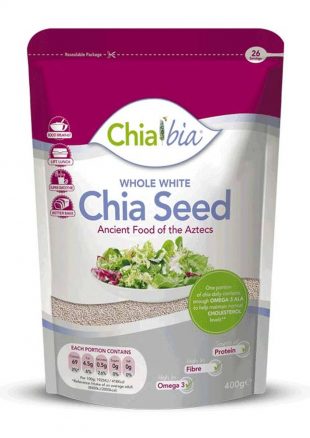 Chia Bia whole white seed 200g
Boost your nutrition easily with Chia Bia. Simply add WHOLE WHITE CHIA SEEDS to your favourite foods or drinks and enjoy a varied and balanced diet and active lifestyle for good health! White chia seed has the same nutritional profile as black chia seed, it also has a subtle flavour and can be added to foods to boost nutrition – the only difference is the colour!
---
---
---
---
---
---