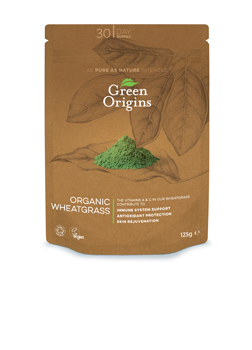 Wheatgrass dates back to the ancient Asian and Middle Eastern cultures where was a prominent food source.
Green Origins Wheatgrass Powder is grown in organically certified facilities in a pristine, unpolluted area of China. It is harvested only a couple of weeks after the young grass are seeded; at its most nutritionally rich and fertile phase. The powder is produced is produced by cutting, drying and grinding the young grass into a fine powder.
The vitamins A and C contribute to immune system support, skin rejuvenation and antioxidant protection. They also help to maintain healthy vision and contribute to normal brain function.
Wheatgrass is high in iron and chlorophyll which provides the micronutrient, magnesium.
It is recommended to take 1 heaped teaspoon (3grams) mixed with water, juice or a smoothie, once or twice a day. It should ideally be taken mid-morning and/or mid-afternoon. You should take a reduced dose during the first week to minimise detoxification symptoms. This product should not be used as a substitute for a varied balanced diet and a healthy lifestyle. Do not exceed the suggested use. Store in a cool, dry place.