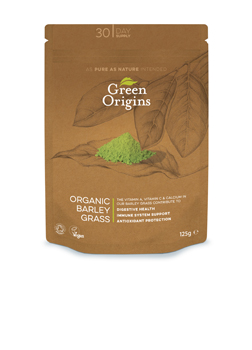 Barley grass is believed to be the first cultivated cereal grain, dating back to ancient Asian and Middle Eastern cultures. The ancient Egyptians, Romans and Vikings all used barley, and Columbus carried it to the Americas in 1493.
Before World War II drugstores in the US sold tablets of dried barley grass as a primitive vitamin supplement.
Green Origins Barley Grass Powder is produced with minimal processing in a pristine, unpolluted area. The barley is grown until the young leaves of the plant are in their most nutritionally rich and fertile phase. It is then harvested, cleaned, dried and milled into a fine powder.
Barley grass is an excellent source of chlorophyll and vitamin C, which help to maintain cardiovascular health and help to reduce tiredness, fatigue and stress.
Barley grass also offers a wide array of other vitamins and minerals including vitamin A, folic acid and calcium. These contribute to digestive health, antioxidant protection and immune system support.
We recommend that you take one heaped teaspoon (3 grams) mixed with water, juice or a smoothie, once or twice a day. It should ideally be taken mid-morning and/or mid-afternoon. We also recommend that you take a reduced dose during the first week to minimise detoxification symptoms.
This product should not be used as a substitute for a varied balanced diet and a healthy lifestyle. Do not exceed the suggested use. Store your Barley Grass Powder in a cool, dry place.