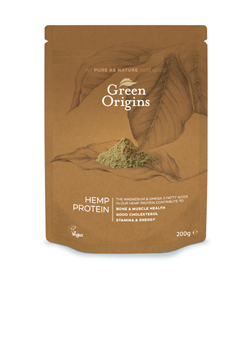 The hemp plant is one of the oldest known plants in the world and it belongs to the mulberry family.
Hemp protein is produced with minimal processing. Once harvested, the hemp seeds are cleaned and sorted. They are then cold-pressed to remove their oil content. The resulting paste is dried, stone-ground to powder and then sieved to increase protein content. Although the seeds must go through a number of processes, the hulling and pressing of the seeds is done as gently as possible to preserve nutritional content.
The magnesium and omega 3 fatty acids in Green Origins Hemp Protein Powder contribute to bone and muscle health, stamina and good cholesterol. They also help to improve energy and reduce stress and fatigue.
Hemp is high in protein and is also a good source of calcium, which helps to improve cardiovascular health.
It is recommended that you take up to 2 tablespoons of hemp protein powder at a time. It can easily be added to water, milk or a smoothie. Use 1 -2 times a day or as required.
This product should not be used as a substitute for a varied balanced diet and a healthy lifestyle. Do not exceed the suggested use. Store your hemp protein powder in a cool, dry place.