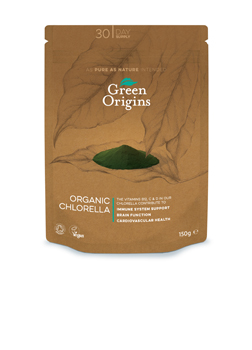 Chlorella is believed to be one of the oldest foods on earth and it is one of the most heavily researched foods on the planet today.
The Russians used chlorella to help protect people against the effects of radiation after the Chernobyl disaster.
Chlorella is blue-green algae that is produced by photosynthesis, the natural process by which plants absorb energy from sunlight.
A significant component of chlorella is its green pigment, chlorophyll, which is high in magnesium. Chlorella is also rich in protein and is a multi-tasking food which means it does many jobs for many people.
The chlorella used in Green Origins Chlorella Powder is grown naturally in pools of pure water, where it is left to multiply naturally. Its cell walls are then broken down, to allow maximum nutrients to be absorbed by the body.
Chlorella powder is an easy way to incorporate more nutrients in your diet by simply adding it to a shot of water or your favourite smoothie and drinking it up to twice a day.
The vitamins B12, C and D in Green Origins Organic Chlorella Powder contribute to brain function, cardiovascular health and immune system support.
Chlorella is high in Riboflavin (B2) and is a source of zinc, which help to maintain healthy vision and protect cells from oxidative stress.
Chlorella is also a rich source of protein, containing 7 of the 8 essential amino acids – those we cannot make ourselves and must obtain from our diet.
We recommend that you take one – two teaspoons per day mixed with water, juice or a smoothie. We also recommend that you start with a smaller serving and increase this gradually.
This product should not be used as a substitute for a varied balanced diet and a healthy lifestyle. Do not exceed the suggested use. Store your Chlorella Powder in a cool, dry place.