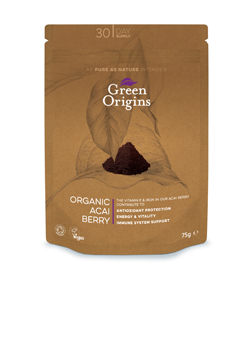 The acai berry grows from the acai palm, native to the Amazon region in South America. It has been used by Amazonians for centuries, but it is only in recent years that it has gained its global reputation.
The acai berry is known for its antioxidant content, due to its exceptionally high ORAC score, which is twice that of blueberries. It is also high in vitamin E and iron, which support the immune system and help to reduce tiredness, fatigue and stress.
Green Origins Organic Acai Berry Powder is freeze-dried within 24 hours of harvest, to ensure it maintains its strong nutritional profile.
Acai berry powder is an easy way to incorporate more nutrients in your diet by simply adding it to your favourite smoothie or juice.
Acai berries perish within 24 hours which is why processing happens within this short timeframe. The berries are hand-picked, cleaned, de-stoned, pureed and then freeze dried; this minimises nutrient loss without the use of heat, chemicals or preservatives. The result of this process is a powdered product that contains as much of the fresh fruit's nutrition as possible, in a light and portable form.
Green Origins' Organic Acai Berry Powder is incredibly concentrated, as it takes over 20kg of acai berry fruit to produce 1kg of freeze-dried powder.
Acai berries have twice the antioxidant properties of blueberries, that are thought to fight cell-damaging free radicals. This is measured by the ORAC (Oxygen Radical Absorbance Capacity) test and the acai berry scores exceptionally high.
Acai berries are high in vitamin E and iron which contribute to antioxidant protection, reduce tiredness and fatigue, and support the immune system.
They are also a source of magnesium which contributes to healthy bones, teeth and supports mental health.
It is recommended that you add 3-6 grams of Green Origins Organic Acai Berry Powder to water, juice or a smoothie. Alternatively sprinkle on or add to food. Start with a smaller serving and increase this gradually.
This product should not be used as a substitute for a varied balanced diet and a healthy lifestyle. Do not exceed the suggested use. Store in a cool, dry place.