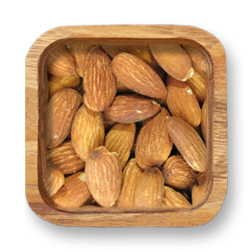 Almond trees date back to the period of the Ancient Greeks where they were bestowed upon as a health giving pick-me-up. They have since become an integral part of our Mediterranean diet for their great nutritional profile. Almonds are high in protein, fibre, vitamins and minerals such as magnesium which can contribute to help us live a healthy lifestyle.
As a kitchen ingredient and snack on the go, almonds are available in all shapes and sizes. Whether they are red skin, blanched, flaked, chopped, slivered or ground, these nuts can be introduced into any favourite family recipe. They marry well with all seasonal fresh or dried fruit to make the crunchiest mixes to power you through the day, turn grain salads from boring to wow – adding almonds not only improves the nutritional balance of your salad but brings out the nuttiness of the grain, make baked goods nuttier by substituting 50% of your ordinary flour with ground almonds. In this same way, ground almonds can be used as a gluten free thickener, or as a substitute to breadcrumbs in your favourite meatballs.
In the past almonds were treasured as a source of good luck, good health and good fortune. No matter where they appear almonds always evoke that wow feeling factor. Through the years, studies have shown that almonds have a very rich nutritional profile and nowadays they are valued to enhance our wellbeing whether we are following a special diet or just wish to be more conscious of the food we eat.