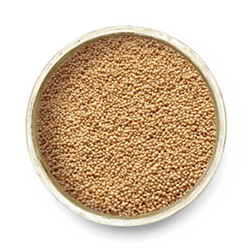 Amaranth is the common name for more than 60 different species of amaranthus, which are usually very tall plants with broad green leaves and impressively bright purple, red, or gold flowers. Three species — Amaranthus cruenus, Amaranthus hypochondriacus, and Amaranthus caudatus — are commonly grown for their edible seeds.
The name for amaranth comes from the Greek amarantos, "one that does not wither," or "the never-fading." True to form, amaranth's bushy flowers retain their vibrancy even after harvesting and drying, and some varieties of ornamental amaranth forego the production of fancy flowers in favour of flashy foliage, sprouting leaves that can range from deep blood-red to light green shot with purple veining.
Amaranth grain has a long and colorful history in Mexico and is considered a native crop in Peru. It was a major food crop of the Aztecs, and some have estimated amaranth was domesticated between 6,000 and 8,000 years ago. Annual grain tributes of amaranth to the Aztec emperor were roughly equal to corn tributes. The Aztecs didn't just grow and eat amaranth, they also used the grains as part of their religious practices. Many ceremonies would include the creation of a deity's image that had been made from a combination of amaranth grains and honey. Once formed, the images were worshipped before being broken into pieces and distributed for people to eat.
When Cortez and his Spaniards landed in the New World in the sixteenth century, they immediately began fervent and often forceful attempts to convert the Aztecs to Christianity. One of their first moves? Outlaw foods involved in "heathen" festivals and religious ceremonies, amaranth included. Although severe punishment was handed to anyone found growing or possessing amaranth, complete eradication of this culturally important, fast-growing, and very prevalent plant proved to be impossible.
Amaranth contains more than three times the average amount of calcium and is also high in iron, magnesium, phosphorus, and potassium. It's also the only grain documented to contain Vitamin C.
It's a protein powerhouse. At about 13-14%, it easily trumps the protein content of most other grains. You may hear the protein in amaranth referred to as "complete" because it contains lysine, an amino acid missing or negligible in many grains.
It's good for your heart. Amaranth has shown potential as a cholesterol-lowering whole grain in several studies conducted over the past 14 years.
Last but not least, it's naturally gluten-free. Gluten is the major protein in many grains and is responsible for the elasticity in dough, allows for leavening, and contributes chewiness to baked products. But more and more people are finding they cannot comfortably – or even safely – eat products containing gluten, often due to Coeliac disease, an autoimmune digestive disease that damages the body's ability to absorb nutrients from food.
Cooking amaranth is very easy. Cooked amaranth behaves a little differently than other whole grains. It never loses its crunch completely, but rather softens on the inside while maintaining enough outer integrity so that the grains seem to pop between your teeth. In fact, the sensation of chewing a spoonful of cooked amaranth grains has been compared to eating a spoonful of caviar (without the salty fishiness, of course).