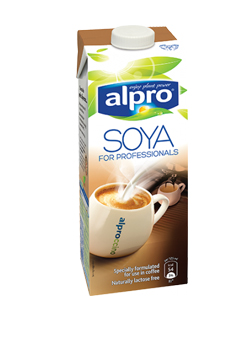 With over 30 years' experience in the world of natural plant based drinks, Alpro has formulated alternative plant based drinks exclusively for the professional barista.
What is Alpro 'For Professionals'?
• Alpro 'For Professionals' Soya or Coconut variants are long life plant based alternatives, specially blended for coffee to make perfect cappuccinos and lattes.
• It never lets you down! For Professionals has a consistent workability and high quality micro foam guarantee for ease of use time after time.
• For 3 decades Alpro has been working closely with growers and farmers across the globe maintaining long term working relationships to guarantee full traceability from crop to crop.
• Being naturally dairy and lactose free, Alpro For Professionals is also suitable for those following a vegan or vegetarian diet
Why Alpro 'For Professionals'?
• Preparing hot beverages with plant based alternative drinks is a fast growing market and does not only offer something pleasing to the eye.
• We are always seeking a healthier drink when we are out at a café with friends and family. Finding this in an "Alproccino" means that we are having a hot drink that is high in plant protein and low in saturated fat.
Why would you serve coffees with soya or coconut?
• The world over everyone is seeking a healthier lifestyle. More fruit and veg, more plant based foods, less saturated fat from animal origin, more exercise, less stress… the list is endless.
• Soya and coconut provide us with high quality plant protein and a beneficial balance of fatty acids with low levels of the 'bad' saturated fats – so it fits in perfectly with a healthy, balanced diet.
• It appeals to most of us as Alpro is high in plant protein, low in saturated fat and full of plant goodness.
• Alpro 'For Professionals' is a creamy, sweet plant based milk alternative perfect for creating long, delicious lattes or light, fluffy cappuccinos.
Top Tips for The Professional Barista
When using Alpro 'For Professionals'
• #1 – Always keep refrigerated and shake well before use.
• #2 – Steam heat the Alpro 'For Professionals' in a clean jug to no more than 65˚C.
• #3 – For particularly acidic coffees let the first few seconds of the shot drop.
• #4 – Never re steam Alpro 'For Professionals
Alpro 'For Professionals' is the only plant based milk alternative that delivers consistent, reliable, deliciously creamy lattes or frothy light cappuccinos.