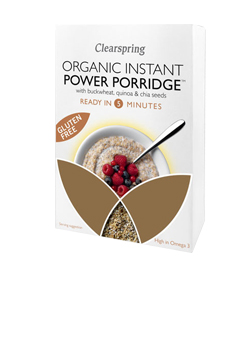 Wake up to Clearspring Organic Instant Power Porridge and start the day as you mean to go on. Made with three organic and gluten free ingredients: nutty buckwheat flakes, Chia seeds naturally rich in Omega 3 and the ancient wholegrain quinoa.
Ready to eat in just five minutes this gluten free alternative to traditional oat porridge was specially created and blended for its flavour and nutritional characteristics.
• High in Omega 3
• Source of protein
• High in fibre
• No added sugar or salt
Made from the finest organic ingredients without artificial flavours, colours or preservatives and packed in a dedicated gluten free environment. Creamy, hearty and warming, make Power Porridge the perfect start to your day. Simply mix with any milk of your choice in a saucepan and cook for 5 minutes stirring occasionally. For a creamy texture use soya or coconut milk, for a more nutty flavour use almond milk or if you prefer a hint of sweetness use rice milk. Adding a handful of fresh seasonal fruit, puree or compote will count towards your one of your 5-a-day but it is also delicious on its own.