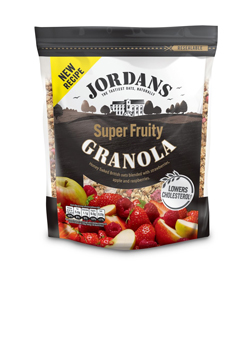 Jordans delicious Super Granola is bursting at the seams with scrumptious ingredients to make it super in every way. A base of crunchy, honey-baked oats followed by a good sprinkling of super berries or nuts, make for a stonkingly good breakfast.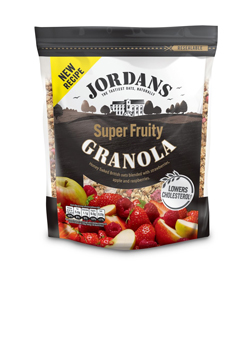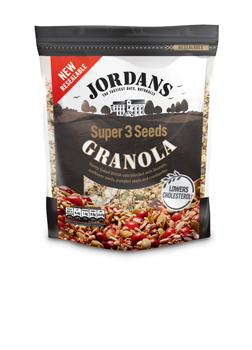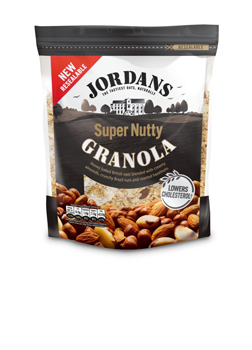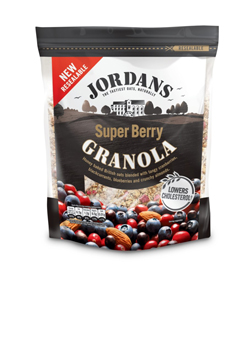 Jordans Super Berry Granola – Each spoonful of Jordans Super Berry Granola contains the perfect blend of ingredients that add up to a delicious, cholesterol-busting* start to your day. Overflowing with tangy blackcurrants, blueberries, cranberries and crunchy almonds, they are all deliciously blended with honey baked wholegrain oats to give you that oomph, and make it taste just as good as it looks.
Jordans Super Nutty Ganola – If you're crazy for nuts, then Jordans Super Nutty Granola might just be the one for you. We take whole oats, roll them in honey, bake them and then shower them with a combination of sliced Brazil nuts, deliciously roasted chopped hazelnuts, and flaked and chopped almonds. A cereal that lowers your cholesterol* and will send any nut fan extra nutty.
Jordans Super Fruity Granola – To make Jordans Super Fruity Granola, we take our honey-baked British wholegrain oats, and whip them into a frenzy of excitement with heaps of raspberries, redcurrants, and pomegranate. This tasty mix also helps to lower your cholesterol*, making spoonfuls of this super stuff the perfect way to start your day.
Jordans Super 3 Seeds Granola – As well as being a bit of a tongue twister, a spoonful of Jordans Super 3 Seeds Granola is, as you might have guessed, stuffed with seeds (sunflower, pumpkin and linseeds), all mixed up with succulent cranberries and our simply, superbly, smashing honey-baked wholegrain British oats. Phew… Oh, did we also mention that they'll lower your cholesterol* too?
*The inclusion of oats as part of a balanced diet and a healthy lifestyle can help reduce cholesterol levels. Each 45g serving provides 1g of beta-glucan soluble fibre, one third of the suggested daily intake of 3g. High cholesterol is a risk factor in the development of coronary heart disease. Coronary heart disease has multiple risk factors and altering one of these risk factors may or may not have a beneficial effect.