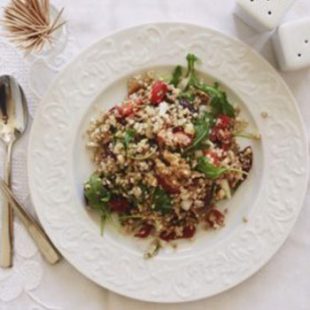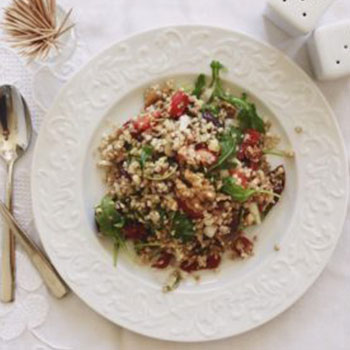 As the weather is getting warmer and the evenings getting longer, so are our bodies looking for that seasonal change. We start stripping off our chunky sweaters and jackets and replace them with lighter and brighter clothes. We start looking at ourselves in the mirror and notice the bulges of overindulgence during those cold, wintry months.
We start making our new season resolutions of more exercise and lighter food. But we still need that fuel to keep us going through the day. With temperatures rising, we somehow increase our physical activity, our appetite decreases, we drink more water – these are all favorable signs to indicating weigh loss naturally. However we need to remember to maintain a healthy diet, that is light, complete and with the correct amount of carbs, protein and fat. To make things easier, choose one dish meals laden with lots of fresh, crunchy vegetables and easy to prepare.
And this is easy – with grains. There are many to choose from – some light and invigorating, others soft and comforting. Whole cooked grains make delicious fresh salads with fruit, vegetables, nuts and seeds. Each grain, couscous, bulgur, millet, quinoa, rice, barley, spelt and kamut, has its own distinctive taste and character and whichever way it is prepared it becomes a marriage of taste and flavour. They are healthy, low in fat, economical, speedy and easy to prepare.
Whole grains contain all six basic types of nutrients: carbohydrates, fat, protein, vitamins, minerals and trace elements in varying degrees. This makes them a vital part of leading a healthy and balanced diet. They are also good sources of micro-nutrients such as selenium or zinc which are lacking in white, refined and polished grains.
Make small changes to your diet this season and introduce at least one new wholegrain a week. Being unrefined, they still retain their bran and germ where all the nutrients are stored.
Whole grains aren't fussy either. They can be prepared ahead of time and kept in the fridge for a few days. Leftovers make a delicious office or lunch-on-the-go.
get inspired with this delicious recipe, perfect for work or uni!