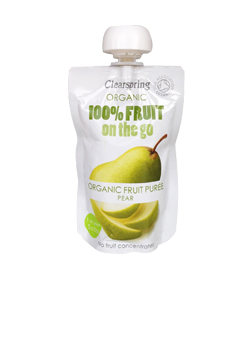 Clearspring 100% Fruit on the Go is a range of tantalisingly tasty fruit puree squeezies. Healthy snacking has never been so easy! Available in three refreshing favours – Apple & Mango, Pear and Apple & Blueberry – the new 100% Fruit on the Go squeezies are the perfect on the go snack for children and adults alike. Made using carefully selected ripe organic fruit, each fruit puree is prepared using minimal heat to retain all of the natural goodness found in nature.
With no concentrates, sweeteners, preservatives or water added, each squeeze will be sure to provide a taste sensation bursting with favour. One serving of 100% Fruit on the Go provides 1 of your 5 a day, making it the perfect healthy boost on the go. These organic, vegan, wheat and nut free treats are suitable for everyone.
Enjoying 100% Fruit on the Go is as simple as just unscrewing the top. With no need for spoons, they are the ideal way to start your day, are a great snack on the go and would even make a perfect pre-gym booster. The single serve packs make 100% Fruit on the Go a real handbag essential. Pop one in your bag for a burst of energy on the move, give to your kids as a guilt-free treat or leave some in the office for a morning health boost.
Each 100% Fruit on the Go puree is also hugely versatile and can be eaten alone or used as a topping for desserts or added to your favourite recipes. They can even be frozen for a refreshing summertime snack or added to a picnic basket as part of the perfect sunshine-fuelled lunch.
When you're feeling fruity, reach for a squeezy!