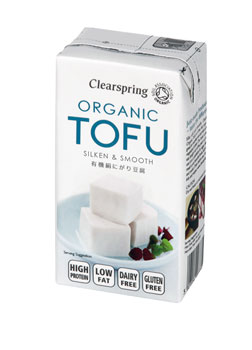 The UK's first organic ambient tofu made with the natural setting agent Nigari Clearspring is launching the UK's first organic long life nigari tofu which does not need to be refrigerated, but tastes as fresh as though it was made this morning. Conveniently presented in ambient tetra pack style packaging. Now you can always have tofu in your kitchen cupboard for feeding the family or for entertaining impromptu guests.
Clearspring Organic Tofu is made with just three ingredients;
‐ Whole soya beans that are fully traceable and EU certified,
‐ Spring water from Mount Fuji,
‐ Nigari, a naturally occurring mineral rich coagulant derived from sea water.
Made without using any soy protein isolates, artificial water‐ retaining coagulants, GM soy or preservatives, this unique protein rich food has the potential to change the way we view tofu in the UK.
Clearspring Organic Tofu is denser and richer than other soft tofu and has a silky soft, smooth texture whilst maintaining firmness. This firm structure makes Clearspring Tofu much more versatile than other silken tofu so you can incorporate it into your favourite savoury or sweet foods for breakfast, lunch or dinner. In fact, Clearspring Organic Tofu is so good you can eat it straight out of the pack; just add a dash of Clearspring organic Tamari Soya Sauce, a little grated ginger and some thinly sliced spring onion for a simple, delicious and healthy dish.
Clearspring Organic Tofu boasts a multitude of health benefits. It has a high protein content, is low in fat, and is dairy, lactose and gluten free. Research has shown that eating at least 25 grams of soy protein a day, as part of a diet low in saturated fat, may help reduce cholesterol in the blood and reduce the risk of heart disease. Christopher Dawson, Founder of Clearspring says; "Tofu is probably the most user friendly and versatile of all vegetarian foods. Our organic tofu is perhaps the first tofu which can be eaten both straight from the pack and used in cooking. It is very easy to use and tastes as good as fresh tofu".
For some delicious recipe ideas you can click on this link https://www.clearspring.co.uk/search?type=article&q=tofu
Clearspring is a privately owned UK company established in the 1980's to distribute great‐tasting foods that support good health, promote sustainable agriculture, and provide economic stability for producer communities. You will find that each of our food products has a distinct flavour and quality that comes from using the finest quality ingredients and respecting local food traditions. We always work directly with our producers, building long‐term partnerships of ethical trade that support sustainable organic farming and benefit local communities. There are two distinct groups of products at Clearspring; Authentic Japanese products which have been developed over the centuries by master artisan producers, as well as a European organic range which consist of premium organic foods produced by dedicated specialists.
All Clearspring products adhere to the Brand Promise • Organic / premium quality Japanese / Oriental and European foods. • Authentic and traditional recipes developed by master artisan producers. • 100% vegetarian and vegan foods and ingredients. • Wholesome and great tasting daily foods for optimum nutrition. • No artificial additives, MSG, colourings, preservatives or added refined sugar. • Ethically sourced foods which support producer communities. • Made using environmentally sustainable and non‐GM ingredients.