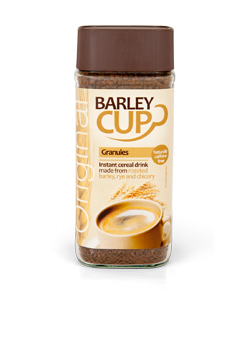 Made only from wholesome roasted barley, rye and chicory, Barleycup is a range of instant hot drinks that are free from caffeine and artificial additives. In addition, Barleycup drinks are also certified gluten free. Full of flavour and lots more besides, Barleycup is your natural alternative to coffee.
At only 10kcals a cup and with no added sugar, Barleycup tastes as good on its own, with milk or with a dairy free alternative. Just add hot water, stir, sit back, relax and enjoy the mild tempting aroma of Barleycup!
Whether you are trying to cut down on the amount of caffeine you drink; counting the calories or you simply like to eat and drink healthily, then Barleycup is a great choice, as part of a healthy balanced diet.
There are three great tasting variations of Barleycup to choose from:
Barleycup Powder – the best-selling original member of the Barleycup family!
Barleycup Granules – same great taste as Barleycup Powder but in granulated form
Barleycup Organic – made from the finest certified organic roasted grains and chicory roots
All the Barleycup range is made from non-GM ingredients and is perfectly suitable for the whole family, including children. It is also a firm favourite with pregnant and lactating mothers as it has all the taste and flavour of coffee without the caffeine.