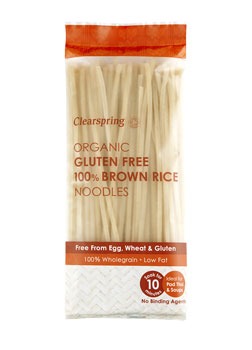 For an organic and gluten free option that adds an Asian touch to any dish, look no further than the NEW 100% Brown Rice Noodles from Clearspring. Healthy and easy to cook, these wholegrain noodles are made using traditional production methods and the highest quality organic brown rice to produce smooth and filling gluten free noodles.
The Clearspring 100% Brown Rice Noodles are available in wide or standard varieties and are free from egg, wheat and gluten making them suitable for a range of free-from diets. They provide a good source of fibre and iron, are low fat and contain no artificial binding agents.
Whether tossing them in a stir-fry or adding them to soup, the Clearspring 100% Brown Rice Noodles are versatile for use in any dish and ready to eat after a 10-minute soak. Delicious with a Pad Thai sauce in an Asian noodle salad or served with Japanese vegetables in a broth, the noodles provide a quick, satisfying meal without the unhealthy elements found in most fast food. They can also be used as a gluten free alternative to pasta.