Zucchini Fritters with Vegan Basil Cream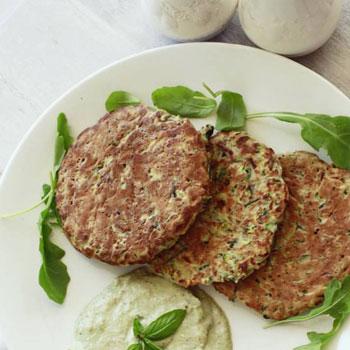 Courtesy of Nikki Manduca
Ingredients:
2 Zucchinis (grated)
1 egg
1 tsp Paprika
1/4 tsp Chili flakes
1 Garlic Clove (chopped)
2 Tbsp Fresh Chives
1 bunch Parsley
3-4 Tbsp Good Earth Buckwheat flour
1 tsp Good Earth Himalayan salt

Basil Cashew Cream:
1 cup Good Earth Cashew Nuts
3/4 cup water
1 Bunch Basil
2 Garlic Cloves
1 Tbsp Lemon Juice
1 tsp Lemon zest
1 tsp Nutritional Yeast
Salt and pepper to taste
Prep time:
15 mins
Total time:
25 mins
Serves:
2
Instructions
A super easy, quick and simple recipe thats great for breakfast, lunch or even to go! Not only is it simple, but its super tasty and rich in flavor!
To Make:
Start by making the cashew cream. Simply put all of the ingredients into a blender and blitz until smooth. For the fritters, put everything into a bowl and mix well until you get a sticky thick consistency. Heat up the pan with some coconut oil, add the mix and cook on each side like a pancake.