Warming Aubergine & Lentils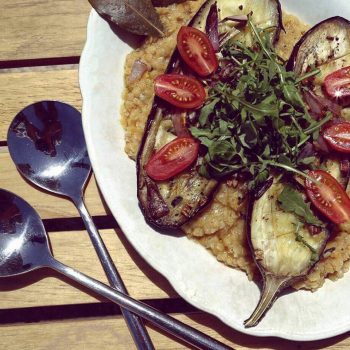 Courtesy of Nikki Manduca
Ingredients:
1 Aubergine cut into half
1 Tbsp Pantaleo Olive Oil
1 cup Good Earth Yellow Lentils
1 tsp Good Earth Crushed Chilli
1 tsp Good Earth Sesame Seeds
1 Good Earth Bay leaf
Pinch of Good Earth Himalayan Salt and Ground Pepper

Optional Toppings:
Sunita Tahini
Fresh Rocket
Cherry Tomatoes
Prep time:
15 mins
Total time:
1 hour
Serves:
2
Instructions
Cut the aubergine in half and cover in salt and the olive oil. Place on a roasting tray and roast in the oven for 40 minutes until golden and cooked through. Once the aubergine is cooking, you can start making the lentils. Place one cup of lentils in a sieve and rinse, then pop in in a pot and pour over 2 cups of water. Throw in the bayleaf, a big pinch of salt and 1 and a half cloves of crushed garlic. Bring to a high simmer then reduce to a low simmer to cook for 20-25 minutes until cooked through.