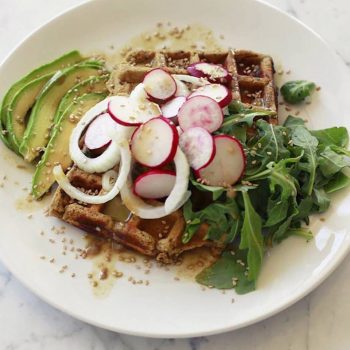 Courtesy of Nikki Manduca
Ingredients:
400g Good Earth Chickpeas (cooked)
1 cup Good Earth Almond Meal
3-4 Tbsp Sunita Tahini
1/2 cup Fresh Parsley
1/3 cup Good Earth Raisins
3 cloves Garlic
1 Tbsp Good Earth Cumin
1 Tbsp Good Earth Ground Coriander
2-3 Tbsp Lemon Juice
2 tbsp Coconut Oil
1/4 tsp Good Earth Crushed Chilli Flakes
1 tsp Good Earth Ground Black Pepper
Good Earth Himalayan Salt to taste
60 ml Water

Top with Avocado slices, rocket, sesame seeds, sliced onion, radishes, tahini and olive oil.
Prep time:
10 mins
Total time:
30 mins
Serves:
2
Instructions
Vegans and Vegetarians tend to struggle once they make such a transition from meat because they find it challenging to think of a protein alternative. However, these falafels are filled with tons of protein, healthy fats and are low carb to make your jaws drop and tummy's grumble!
To Make:
Start by heating up your waffle machine and grease with a bit of coconut oil if a nonstick. Then transfer everything but the raisons, almond meal and water to a food processor or blender and process until almost smooth. Lastly, add the almond meal and raisons whilst slowly and gradually adding the water until you get a paste like consistency.
Place mixture over the waffle machine and let it cook for about 5 minutes. Do not touch until it is fully cooked as it will not hold together. Once cooked, let it cool before taking it off the waffle machine so that it can dry up from any moisture and apply to a plate with toppings of your choice!