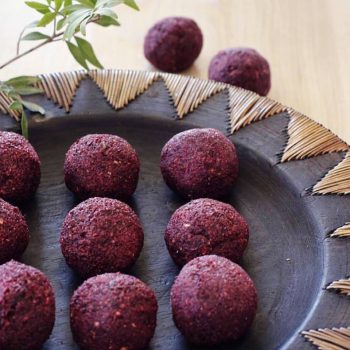 Courtesy of Nikki Manduca
Ingredients:
1 Beetroot (peeled and chopped)
1 cup Good Earth Cashew Nuts
1 cup Good Earth Oat Flakes
1/2 cup Good Earth Pitted Dates
1 Tbsp Merito Organic Coconut Oil
1 tsp Monki Organic Almond Butter
2 Tbsp Good Earth Chia Seeds
2 Tbsp Good Earth Raw Cacao Powder
2 Tbsp Good Earth Desiccated Coconut
2 Tbsp Toplou Bio-Organic Greek Thyme Honey
Prep time:
20 mins
Total time:
1 hour
Serves:
13 - 15 balls
Instructions
Beetroot is a dark red vegetable that is high in fibre, prevents constipation, increases blood flow to places lacking oxygen and lowers blood pressure.
To Make:
Start by pulsing all of the nuts in a food processor until ground. Then add the dates and coconut oil until you get a smooth sticky consistency.
Peel and chop up the beetroot and add to the food processor along with the rest of the ingredients and blitz until smooth. Once this is complete, roll up the mixture into ping pong size balls (makes about 13-15 balls) and add to the freezer for about an hour to settle and get firm and enjoy!