Super Antioxidant Acai Smoothie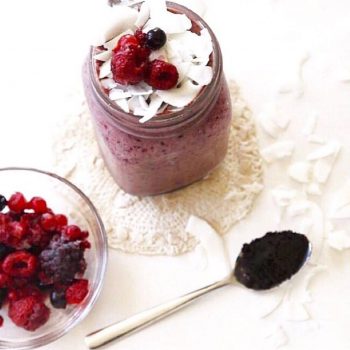 Courtesy of Nikki Manduca
Ingredients:
1 Banana
1 cup Frozen Mixed Berries
1 Tbsp Green Origins Acai Berry Powder
1 tsp Green Origins Organic Maca Powder
1 tsp Linusit Organic Ground Flaxseed
1 tsp Monki Organic Almond/Cashew Butter
200 ml Alpro Coconut Almond Milk
Good Earth Coconut Flakes for topping (optional)
Prep time:
5 mins
Total time:
5 mins
Serves:
1
Instructions
The best way to stay healthy is to eat a wide variety of vitamin-rich foods – a breakfast smoothie is one of the best ways to pack in as many nutritious ingredients in one serving. This super antioxidant acas smoothie is super easy to make, especially for those that have a habit of being rushed in the morning and skip breakfast. It is filled with Acai berries, which in 1 serving provides the same level of antioxidants as up to 240 blueberries!
For those of you not familiar with Maca powder, it is a great added boost in cereal and smoothies as it gives a natural sweet flavour and has many health benefits. Women especially. It decreases menopause symptoms, enhances energy, supports mood, increases bone density and fertility.
To Make:
Simply add all of the ingredients to a blender and there you have it. Your super antioxidant cup of goodness!