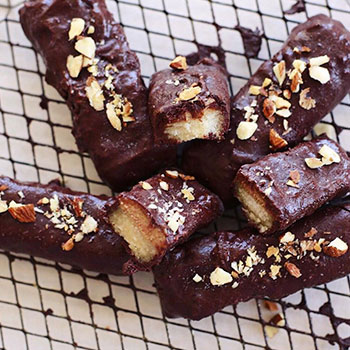 Courtesy of Nikki Manduca
Ingredients:
For the Base:
Pinch of Salt
1 tsp Vanilla Extract
1 cup Good Earth Macadamia Nuts
1 cup Monki Almond/Cashew Butter
1tsp Green Origins Organic Maca Powder
4 Tbsp Horizon Organic Maple Syrup

For the Caramel Sauce:
1 cup Good Earth Whole Pitted Dates
3 Tbsp Monki Organic Cashew Nut Butter
Pinch of Good Earth Himalayan Salt
8 Tbsp Water
Prep time:
20 mins
Total time:
3 hours
Serves:
7 bars
Instructions
Place the macadamia nuts in a food processor with maple syrup, almond meal, maca powder, salt and vanilla extract and process. Press down the shortbread evening in a small slice tin lined with baking paper and freeze whilst you make the caramel. Place the caramel in a food processor and blend until completely smooth and creamy. Spread the caramel mixture over the shortbread and freeze for atleast an hour.
To make the chocolate, melt the cacao butter in a saucepan on a low heat and whisk together with the raw cacao and maple syrup. Remove the tin from the freezer and cut into long rectangular pieces. Spread a sheet of baking paper under a wire rack, dip the bars into the chocolate using a fork and place on the rack.
Once they are all coated, pop into the freezer until firm and enjoy.