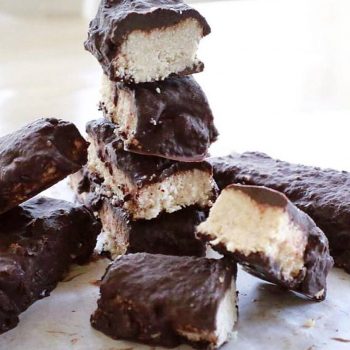 Courtesy of Nikki Manduca
Ingredients:
1 cup Good Earth Cashew Nuts
2 cups Good Earth Desiccated Coconut
60ml Emile Noel Organic Coconut Oil
3 Tbsp Horizon Organic Maple Syrup
1 Tbsp Vanilla Extract
Pinch of Good Earth Himalayan salt

Raw Chocolate:
1/3 cup Green Origins Cacao Butter (melted)
3/4 cup Good Earth Raw Cacao Powder
1/2 cup Horizon Organic Maple Syrup
Prep time:
40 mins
Total time:
1 hour 30 mins
Serves:
10 bars
Instructions
Vegan Heaven. You wouldn't believe that these delicious raw bounty bars are as good for you as they taste, if not better than the real thing!
To Make:
Start by adding the cashews to a food processor and blend until smooth. Almost like a nut butter consistency. Gradually add the rest of the ingredients and keep on blitzing until a desired creaminess consistency. Be patient as this might take some time! Once complete, place onto a square tray about 2cm thick with some baking paper and pop into the freezer for about an hour before making the chocolate.
For the chocolate: Simply mix all of the ingredients together into a bowl.
Take the coconut mix out of the freezer and cut into rectangles. Dip each one into raw chocolate and Pop again into freezer for the finishing touch and enjoy!