Quinoa & Lentil Salad with Caramelised Cauliflower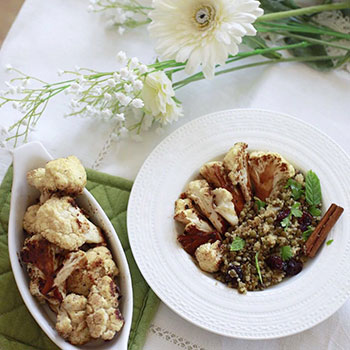 Courtesy of Nikki Manduca
Ingredients:
1 head cauliflower
Knob of Merito Organic Coconut Oil
Pinch of Good Earth Himalayan Salt
5 Tablespoons Torrione Balsamic Vinegar

1/2 cup Good Earth Quinoa
1/2 cup Good Earth Green Lentils

1 Tbsp of Merito Organic Coconut Oil
2 large onions (finely chopped)
1 Good Earth Cinnamon Stick
2 tsp Good Earth Fennel Seeds
2 tsp Good Earth Ground Cumin
1/2 tsp Good Earth Ground Black Pepper
100g Good Earth Cranberries
2 Tbsp Pantaleo Olive Oil
Grated Orange Zest of one orange
2 Tbsp Fresh squeezed Orange
1.5 Tbsp lemon juice
1/2 Fresh Mint
1/2 cup Fresh Parsley (chopped)
1 Tbsp Horizon Organic Maple Syrup
Prep time:
20 mins
Total time:
1 hour 30 mins
Serves:
4
Instructions
Preheat the oven to 200 degrees and line a tray with baking parchment. Cut the cauliflower head into slices and drizzle with coconut oil and salt and spread them evenly on the tray. Roast for 20 minutes or until lightly brown and then drizzle over the balsamic vinegar. Place in the oven for another 5 minutes.
Meanwhile, fill the saucepan with water, bring to boil and add the lentils and cook until soft, about 25 minutes. Do the same with the quinoa in a separate saucepan.
On a pan, add the oil and start frying the onion, spices and fennel seeds, stirring often, until lightly caramelised. Add the cooked quinoa and lentils and stir to combine. Remove the cinnamon stick, turn off the heat and place into a large bowl. Throw in the lemon, orange zest and juice, herbs and maple syrup and mix together and serve with the cauliflower.