Protein Pancakes with Vegan Cashew Cream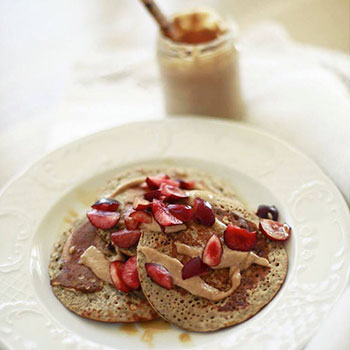 Courtesy of Nikki Manduca
Ingredients:
Pancakes:
1 egg
1/2 cup Good Earth Buckwheat/Brown Rice Flour
3/4 cups Alpro Almond Milk
2 Tbsp Good Earth Chia seeds
2 Tbsp Horizon Organic Maple Syrup
1/2 tsp Doves Farm Organic Baking Powder
1 tsp of Emile Noel Organic Coconut Oil to grease
Pinch of Good Earth Himalayan Salt
Chopped cherries (optional topping)

Cashew cream:
1 cup Good Earth Cashew Nuts
1 Tbsp Good Earth Ground Ginger
1 tsp Good Earth Ground Cinnamon
1 tsp Coconut Sugar
1/2 Tbsp Sunita Lemon Juice
1 tsp Vanilla Extract
50ml Alpro Unsweetened Almond Milk
Prep time:
20 mins
Total time:
30 mins
Serves:
2
Instructions
While many people think that buckwheat is a cereal grain, it is actually a fruit seed that is related to rhubarb and sorrel making it a suitable substitute for grains for people who are sensitive to wheat or other grains that contain protein glutens. Buckwheat is known to have many added healthy benefits as it lowers blood pressure, improves digestion, controls cholesterol and diabetes, boosts the immune system and is full of antioxidants that fight against cancer.
To Make:
Start by making the cashew cream. Simply add all of the ingredients to a high speed blender and blitz until smooth. Add more milk if necessary. Once this is done, put it into the freezer to chill until you make your pancakes.
For the pancakes, add all of the ingredients to a large bowl and whisk together. Let it sit for 5 mins so that the chia seeds can really absorb all the liquid. If too watery add more chia and vice versa. Then, heat your pan, apply the oil and let it get nice and hot before adding the mix. Once you add the mix, let it cook on a low heat and don't touch it until you see little bubbles appearing on the surface. This is a sign that you need to start scrapping the edges and be ready to flip the pancake. Once you flip it, leave it cook for another minute and apply to a plate. Bring the cashew cream out of the freezer, add a bit more milk if needed to make it more saucy, stir and pour over the pancakes and top with toppings of your choice.